The Overseers
The overseers of Shaker Ridge Vineyard are not California natives but willing converts to its starkly beautiful and varied natural landscape, ideal Mediterranean climate, and rich history. Owner Elizabeth and husband Andy Standeven are scientists by training and committed to continual improvement in viticultural practices by careful observation, literature review, and experimentation.
Elizabeth was born in Arizona and spent most of her formative years in North Carolina before moving West. A zoology major in college, she returned to Arizona to obtain a master's degree in anthropology from the University of Arizona.
Andy was born and raised in southeastern Pennsylvania. An undergraduate biology major, he obtained a PhD in pharmacology/toxicology from Dartmouth College in New Hampshire before starting his professional career in California.
Our Name
The Shakers are a Christian sect that flourished in the 19th century in the eastern United States. Shakers picked choice, idyllic locations in which to set up the villages in which they lived communally. Many of their villages are maintained today for visitors and continue to convey a profound sense of serenity and order. The Shakers were known, among other things, for the production of high quality goods, for valuing work as a source of fulfillment, for innovation, and for the pursuit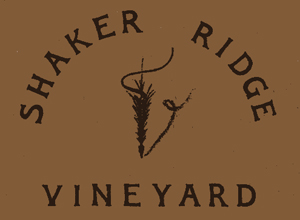 of perfection. It is out of respect for all of these qualities, and in light of our ridgetop location with views of the snow-capped Sierra Nevada mountains, that we chose the name Shaker Ridge.
Our Logo
Our logo was originally designed and drawn by our nephew Matthew. We provided him a seed from a native weed (filaree) in our vineyard and asked him to make a drawing of it. He returned a beautiful rendering of the seed that captured its natural elegance and included the design feature of the seed casting a shadow. We gave this drawing to family friend Lane who designed the calligraphy of our name and used Matt's design as the centerpiece of the logo.
The filaree (Erodium cicutarium) seed has an ingenious corkscrew design that the initially arrow-shaped seed adopts within minutes of being released from seed pods in the late spring. The seed can be carried by the wind or by digging into passing animals, and the elegant corkscrew design no doubt also helps the seed to dig into the soil. We came to admire the functional beauty of this seed in the formative years of our vineyard, even as we struggled to eradicate it from our vineyard rows!