2022 Grape Production and Pricing
Varietal

Expected Yield (tons/acre)

Price for less than 1000 lbs

Price for 1000 lbs or greater

Barbera

2.0-2.5

NA

$1.00/lb

Primitivo

2.5-3.0

NA

$1.00/lb

Quinta blend

2.0

NA

$1.20/lb

Non-Quinta Touriga

2-5-3.0

NA

$1.00/lb
**Quinta: Touriga Nacional, Tempranillo, Tinta Cao, Souzao, and Tinta Amarela (in typical order of decreasing proportion of total). Planted 2005, modified VSP trellising, overhead netting. Now includes adjacent two rows of vertical cordon Tempranillo, planted 2004.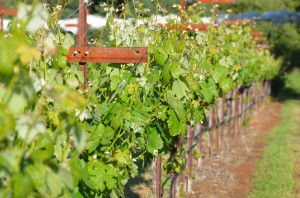 Services & Payment
Shaker Ridge will work with you to optimize the time of harvest to meet your specific goals. Please let us know what style of wine you are targeting, and we can communicate as necessary via phone or e-mail as harvest time approaches. We plan to provide weekly updates of grape chemistry (i.e., sugar, total acid, and pH) in a table on the "Grower Update" page so that you can better plan your optimal harvest time.
In some cases, we will ask for up to 30% non-refundable deposit to reserve grapes. Full payment is expected at the time of pickup of the grapes unless other arrangements have been made in advance.
While we do our best to conservatively estimate our yield, farming is subject to the vagaries of nature, and harvests cannot be guaranteed with 100% certainty. Shaker Ridge will do its very best to provide our grapes in the quantities reserved, and we will inform you as soon as possible in the event of a shortfall. Moreover, we will help you, if desired, make alternate arrangements for Foothills grapes of the same varietal through our contacts.
For home winemakers who may not have the facilities, we will crush and de-stem orders of up to 1000 lbs of grapes upon request. Due to the effort involved, including the significant amount of time required to thoroughly clean our crusher-destemmer following use, we charge a $50 fee for up to 500 lbs, and $75 for up to 1000 lbs. Due to our 1000-lb minimum in 2022, crush/de-stem will not be available in 2022.